"We are saving money thanks to their recommendations and making more from the professional site and increased traffic. " ...more
Our Services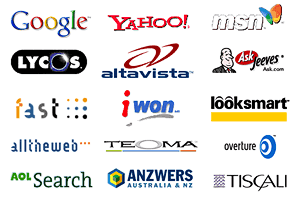 PROMOTION & OUTREACH
Search Engine Optimization (SEO)
Every website we design is optimized for search engine indexing. After the web site is built, we will carefully submit your site to the best search engines and directories on the web. We will also work to uncover appropriate link exchanges, relevant directories, and portals, to help further promote your website.
If ranking well with the major search engines is important to your online business, we also offer a comprehensive Search Engine Optimization (SEO) service. This service provides you with expert, tailored advice on how to optimize each of your webpages for each of the major search engines. We will recommend changes to your textual content to optimize your keyword frequency and we will create individual custom-built website entry pages tailored to specific search engines. During the duration of the SEO campaign you will be provided with reports on your website's rankings. Please contact us to learn more about our SEO service.
Free Search Engine Optimization (SEO) Evaluation
Please fill out this form to request a free personalized SEO website evaluation. We will send your evaluation results back to you within 48 hours. We will also follow-up with a phone call or email to discuss any questions or concerns you may have.
E-mail Marketing
We can help you build your own contact lists from your website inviting visitors to subscribe or sign up. Once you have gathered your opt-in email addresses, we can help you employ a set of web-based email marketing tools that allow you to create, send and measure permission-based email marketing campaigns. You will be able to learn how many people opened your e-mails, who clicked on which links, who forwarded your message and if there were any new subscribers. We can help you personalize and tailor your email marketing campaigns for improved response rates. Contact us today to learn more about the e-mail marketing services we can provide.
Home Page
|
About Us
|
Our Services
|
Our Portfolio
|
Request Quote
|
Contact Us
|
Client Login


© High Country Web Design. All rights reserved.
Web Design by:
High-Country Web Design
.